ENERGY EFFICIENCY NATIONAL PARTNERSHIP AWARDS 2018
31 Jan 2019
PCS has achieved another Energy Efficiency Award during EENP Awards 2018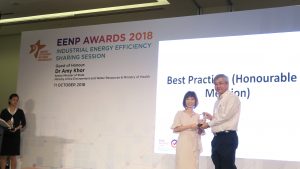 The annual Energy Efficiency National Partnership (EENP) serves as platform to help member companies to reduce energy consumption by providing opportunities for learning and sharing of energy efficiency best practices.
This year, PCS bagged one award – Honourable Mention Awards in the Best Practices category awarded by NEA during the annual Energy Efficiency National Partnership (EENP) Awards 2018 ceremony held on 11 October 2018.  The Award was proudly received by PCS GM(P), Er Lucas Ng from the Guest-of-Honor was Dr Amy Khor, Senior Minister of State for the Environment and Water Resources (MEWR).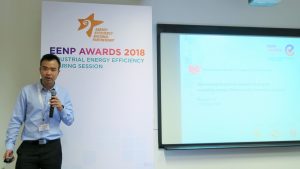 Following the Awards ceremony, PCS was given the honor to share about PCS's Energy Conservation efforts.  Mr Benjamin Tan shared on PCS's positive experience of carrying out regular seawater back-flushing of overhead N-Butene Tower-B Condenser 2E-085.  The reflux rate to distillation column 2T-080 was optimized resulting in improving specific energy consumption by approximately 9%.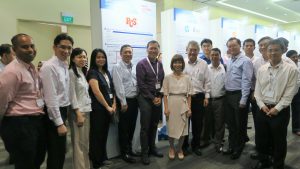 Other speakers also shared on their energy efficiency (EE) journeys made through high level of commitment in adopting Energy Management Practices such as through adoption of innovative and improvement processes, real time monitoring of Cooling Water Tower performance as well as adoption of digital transformation for corrosion monitoring, access control and rescue locating during special operations in petrochemical plants.
This annual best practice platform continues to encourage industries to come together to collaborate with service solution providers to promote and sustain EE improvement by discovering the latest best industry practices for adaption to their operations.